I remember years ago when I was in High School and my parents came back from a trip to Sweden and Denmark. They said to me "Make a conscious effort to stop buying plastic. We watched a documentary while we were in Sweden about how bad plastic is and that it is thought to effect hormones in people and all sorts of things." Being in high school my reaction to this was ok and I made sure to buy soda in a can, we could even still get it in a bottle in Nevada then. And when presented the choice I always choose glass.
As I grew older and noticed that everything went from glass packaging to plastic. Remember glass bottles of Heinz ketchup? Syrup used to come in a glass bottle, so did vinegar, milk and juice. And now while our grocery bags maybe lighter, we can't get away from plastic. We are no longer given the choice. Lately I have been really trying to rid myself of it.
A year of two ago, I went through my kitchen and threw away all my tupperware and plastic bowls. I kept a few things mostly disposable packaging like a Coolwhip dish. But I bought glass plates that can go in the microwave. I bought old vintage pyrex refrigeratorware so that I can store food in glass. We still have plastic plates that are used on occasion. but all my kids including the 5year old know that we never put plastic dishes in the microwave.
I fell into the ease of life and I buy kids snacks that come in portion size servings. Things like yogurt, gogurt and peaches etc. I do try to get a second use out of these plastic packages by cleaning them and saving them for a craft project I might need them for.
But I really want to encourage food companies to give us back the choice of packaging. I want ketchup in a glass jar, who cares if you can't squeeze it. Do you know how many stories my kids and I can come up with of the proper way to coax ketchup out of a bottle. Many many, like tilt the bottle and tap the label (where it reads Heinz) with your butter knife. Or tilt the bottle down and hit the bottom of the bottle with the palm of your hand. I am sure you have a method of your own even too.
Bring back the bulk food aisles. Give me choices to buy yogurt in bulk. Give me my cheese not in plastic. Let me have cartons.
Which brings me to this movie. Plastic Planet. I really want to see it. My husband Brad came across a trailer for it online and knew I would love it. I wrote an email to the movie director
Werner Boote and he actually responded. So let's watch this movie and let's figure out to rid our selves and choosing plastic constantly.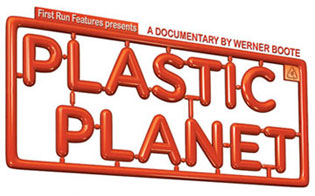 Opens at Cinema Village in New York on January 14, 2011
Director Werner Boote is Available for Interviews
PRESS RELEASE INFO:
We live in the age of plastic. It's cheap and practical, and it's everywhere – even in our blood. But is it a danger to us?
The plastic industry annually generates hundreds of billions of dollars. Every industrial sector in the world today is dependent on plastic. The amount of plastic we have produced since it was invented would be enough to cover the entire globe six times over. But this inexpensive and convenient substance comes with a hefty price. Plastic stays in the ground and water system for up to 500 years. It is found on every beach in the world. Numerous studies have proven that the chemicals it releases (such as Bisphenol A) migrate into the human body and may contribute to or cause grave health problems, from allergies to obesity to infertility, cancer and heart disease.
For Austrian German director Werner Boote, plastic is personal. His grandfather was one of the early manufacturers of plastic and he introduced Boote at a young age to the magic substance that would change the world. Many years later, after reading about the global threat posed by plastic, he decides to embark on a quest to discover the truth about this pervasive substance. Traveling to fourteen countries, he boldly and humorously confronts manufacturers, scientists, government officials and consumers to ask questions that concern all of us: Why don't we change our consumption behavior? Why is the industry not reacting to apparent dangers? Who is held accountable for hills of garbage mounting in deserts and seas? Who wins in this game? And who loses?

This feisty, informative documentary takes us on a journey around the globe - from the Moroccan Sahara to the middle of the Pacific Ocean, from a factory in China to the highest peaks of the Alps - to reveal the far-flung reaches of our plastic problem. Interviews with the world's foremost experts in biology, pharmacology, and genetics shed light on the perils of plastic to our environment and expose the truth of how plastic affects our bodies and the health of future generations. Interspersing animated sequences and old commercials, this eye-opening film reveals how the world has wholeheartedly embraced the convenience of a substance it knows nothing about.
"'Plastic Planet' is that rare call-to-action documentary that might rouse viewers to do something more than nod their heads in agreement. A methodically researched yet engaging examination of the environmental and health problems associated with plastic, this wide-ranging warning cry uses an intelligent investigative style along with animation and vintage footage to drive home its message."
– Jay Weissberg, Variety

PLASTIC PLANET
95 min, Color, English narration and subtitles, Dolby Digital
Written and directed by Werner Boote
Original Music by the Orb
Animation by Peter Hoehsl
Produced by Thomas Bogner, Daniel Zuta
Executive producers, Tom Glaeser, Ilann Girard

With: John Taylor, Peter Lieberzeit, Marques Brown, Othman Ilyassa, Klaus Rhomberg, Beatrice Bortolozzo, Felice Casson, Juergen Artner, Frederic Corbin, Robin Tharaldson, Hermann Bicherl, Vicky Zhang, Theo Colborn, Kurt Scheidl, Rupsha Raghuram, Charles Moore, Susan Jobling, Scott Belcher, Patricia Hunt, Gunther von Hagens, Badru Okidi, Hiroshi Sagae, Jeff Harris, Fred vom Saal, Craig Halgreen, Guido Brosius, Stefano Facco, Catia Bastioli, Ray Hammond, Margot Wallstrom, Elfriede Boote. Narrator: Mark Jefferis
Press materials are available at: firstrunfeatures.com/plasticplanet_press.html